News
UK Fluids Conference 2017- Call for Abstracts Now Open
The call for abstracts is now open for the second annual UK Fluids Conference on 6-8 September 2017 at the University of Leeds. This event is jointly run by the EPSRC CDTs in Fluid Dynamics at Leeds and Imperial College London. Abstracts must be submitted via EasyChair by Monday 24 April 2017.
For more information, including abstract submission instructions, please visit: http://www.fluid-dynamics.leeds.ac.uk/uk-fluids-conference/
Timeline
Call for abstracts: Monday 16 January 2017
Abstract submission deadline: Monday 24 April 2017
Abstract acceptance notification: Friday 26 May 2017
Registration opens: Monday 3 April 2017
Early bird registration deadline: Monday 19 June 2017
Final registration deadline: Thursday 31 August 2017
---
CDT student wins poster award
06.04.2017
Congratulations to CDT student, Robert Kelly, who won a prize for coming in 2nd place in the American Association of Petroleum Geologists (AAPG) student poster competition.
The competition is held annually at the AAPG Annual Convention and Exhibition, which this year took place in Houston, Texas. Robert won $1,500 and the awards are sponsored by ExxonMobil.
Robert's poster was titled "Holistic Evaluation of Basal Stress Evolution in Sinuous Submarine Channel Levee Systems: Towards Process-Based Forward Stratigraphic Modelling".
Robert is a PhD student in the EPSRC Centre for Doctoral Training in Fluid Dynamics and member of the Turbidites Research Group.
---
CDT students paper accepted for publication
14.03.2017
A paper based on the MSc group project of Inna Gorbatenko, Evaldas Greiciunas, James Hall and Jenny Wong has been published in the Journal of Rheology.
This paper describes the design and operation of the Rayleigh Ohnesorge jetting extensional rheometer (ROJER), which enables measurement of very short relaxation times of low viscosity complex fluids such as those encountered in ink-jet printing and spraying applications. The project was supported by AkzoNobel
http://sor.scitation.org/doi/10.1122/1.4979099
---
Launch of new Fluid Dynamics at Leeds website
31.01.2017
We are pleased to announce the launch of the Fluid Dynamics at Leeds website. This website aims to provide an overview of the enormous range of Fluid Dynamics research undertaken at the University of Leeds. This includes activities led from multiple faculties including Engineering, Computing, Earth and Environment, Mathematics and Physics.
Our goal is to promote and support fundamental and multidisciplinary research, and to encourage collaboration and innovation to tackle Fluid Dynamics problems.
There will be a regular blog post from Fluid Dynamics researchers at Leeds to give a brief insight into their current research, and the site will be kept updated with the latest events and news.
If you have any comments or queries regarding the site please do get in touch with us: https://fluids.leeds.ac.uk/contact-us/
---
Improving the accuracy of essential African weather forecasts
06.02.2017
A comprehensive new handbook about weather forecasting in West Africa could help safeguard lives and resources in the region. Meteorology of Tropical West Africa: The Forecasters' Handbook was coordinated by the University of Leeds in collaboration with international researchers and meteorological agencies to help the region's weather forecasters. It results from the African Monsoon Multidisciplinary Analysis (AMMA), the biggest research programme into African weather and climate ever conducted. The handbook includes theory, weather forecasting methods, and case studies of West African weather systems. It follows 15 years of collaborative international research.
Handbook editor and coordinator, Professor Douglas Parker a meteorologist at Leeds' School of Earth and Environment and CDT in Fluid Dynamics co-Director, said: "Accurate weather forecasts are essential for early warning systems that can protect lives, property, and water and food resources. The handbook is the first time any global region has produced a definitive document for forecasting. "Not only is this handbook a way for new research to be brought rapidly into practice it represents an international effort to disseminate important information to a region that has been neglected in the past."
Full article: http://www.leeds.ac.uk/news/article/3986/improving_the_accuracy_of_essential_african_weather_forecasts
---
Why the Earth's magnetic poles could be about to swap places – and how it would affect us
IGT scientists Dr Jon Mound and Dr Phil Livermore had the following article published in The Conversation 27.01.2017
The Earth's magnetic field surrounds our planet like an invisible force field – protecting life from harmful solar radiation by deflecting charged particles away. Far from being constant, this field is continuously changing. Indeed, our planet's history includes at least several hundred global magnetic reversals, where north and south magnetic poles swap places. So when's the next one happening and how will it affect life on Earth?
Full article:https://www.see.leeds.ac.uk/research/research-news/news-story/why-the-earths-magnetic-poles-could-be-about-to-swap-places-and-how-it-would-affect-us/
---
NAG Prize
We are pleased to announce that CDT student Caitlin Chalk is the winner of the NAG Prize for the best performance in the MSc component of our integrated MSc/PhD Fluid Dynamics programme in cohort one.
---
Iron 'jet stream' detected in Earth's outer core
CDT Supervisors Dr Phil Livermore and Prof Rainer Hollerbach speak to BBC News about their collaborative study which has revealed a jet stream within the Earth's molten iron core using the latest satellite data to create an 'x-ray' view of the planet
Further details available online: http://www.bbc.co.uk/news/science-environment-38372342
---
New research network on low-energy ventilation announced
CDT Management Board member and supervisor, Prof Cath Noakes is leading the The Low-Energy Ventilation Network (LEVN) alongside Imperial College's Dr Henry Burridge. It brings together academics from multiple disciplines, and aims to bridge the knowledge-gap between optimal strategies for building ventilation and current industry practice.
The LEVN will support the application of fundamental fluids mechanics approaches in research to simultaneously address energy consumption and occupancy experiences relating to thermal comfort and indoor air-quality in buildings.
Funded by the UK Fluids Network as one of 26 newly established Special Interest Groups, the LEVN network will host six national meetings over the next three years. These are designed to identify research challenges, develop funding applications, and disseminate research findings to academia and industry practitioners.
The network also aims to be proactive in supporting a new generation of researchers entering the building ventilation research field. Professor Noakes said:
"We know that ventilation has a major impact on the energy consumption of a building and at the same time affects occupant productivity, health and well-being. However, much of the research in energy, environment and human performance in buildings pays very little attention to the airflows within a building. The LEVN aims to address this by building collaborations between academics and industrial practitioners to secure funding to carry out novel multi-institutional research to address key gaps".
Further details on the network activities, events and partners are on the LEVN website.
---
JBA Trust Wave Tank Demonstration
CDT partners JBA Trust and JBA Consulting demonstrate the wave tank designed and tested by CDT students Will Booker, Thomas Goodfellow and Jacob van Alwon during their MSc team project. This tank is used to show the impact of coastal defences on flood risk. Three tanks are in use in the UK, and a fourth has been commissioned for use by JBA in Australia.
---
The University of Leeds has been named 'University of the Year 2017' by The Times and The Sunday Times' Good University Guide
Chosen by a distinguished panel, the Guide showcases the excellent student experience at Leeds. Alastair McCall, editor of the Good University Guide, said: "The University of Leeds thoroughly deserves this award for prioritising students' needs first to last. Outstanding student satisfaction levels do not happen by accident and reflect the emphasis placed here on getting the student learning experience spot on."
The award is one of the most high profile and respected in the sector and for the last two years Leeds has been named runner-up.
This news follows another year of exceptional student satisfaction levels, with Leeds securing 90% satisfaction in the recent 2016 National Student Survey. The University also reaches an all-time high in the overall Times and Sunday Times statistical rankings, which creates a league table of universities across the UK based on a broad range of measures. Underpinning the University's outstanding performance, which sees it rising to 13th place overall, are strong results in student experience, high entry standards, services and facilities, and graduate prospects.
Vice-Chancellor, Sir Alan Langlands, said that the accolade came at a significant point in the year as the University welcomes new students and staff.
---
UK Fluid Dynamics Conference 7th-9th September 2016
The EPSRC CDTs in Fluid Dynamics at the University of Leeds and Imperial College London held their first annual joint UK Fluids Conference on 7th-9th September 2016. The Conference held at Imperial brought together over 180 Fluid Dynamics PhD students, industry partners and academics from around the UK.
CDT students from Leeds in the first cohort presented either a poster or a talk at the conference.  For more information and to download the Conference booklet, please visit: http://www.imperial.ac.uk/fluids-cdt/uk-fluids-conference-2016/
The University of Leeds will be hosting the next joint UK Fluids Conference on 6th-8th September 2017. The call for abstracts will be in February 2017. Details will be announced shortly on our website.
---
Residential Induction September 2016
The CDT held an induction event at Weetwood Hall on 19th-21st September for the new students in the third cohort. The activities included a briefing of the PhD project process, hands-on team building activities, talks from the Management Board, current PhD students and industry partners.
We would like to thank Geoff Randall (Sellafield) and Dr David Mould (JBA Consulting) who gave excellent talks on some of the Fluid Dynamics problems currently being tackled in industry.

The students taking measurements from Prof Doug Parker's gravity current tank

The students working in groups for the 'Vampire Challenge' led by Profs Nik Kapur and Cath Noakes
---
Times Higher Education Award for Outstanding Digital Innovation in Teaching or Research
The School of Earth and Environment has been shortlisted as a finalist in the Times Higher Education Awards 2016 under the category of 'Outstanding Digital Innovation in Teaching or Research'. Their entry focused on the 'Virtual Landscapes Project': http://www.see.leeds.ac.uk/virtual-landscapes/
Produced with Leeds College of Art, the project uses a computer game engine to create a virtual landscape that simulates aspects of geological field work. Students explore and interact with this landscape before their first mapping class, visiting virtual outcrops to collect data, determine location, and map regional geology. Students and staff have found the exercises are good preparation, with students making fewer errors in the field and having more confidence going into mapping. The collaborative project forms an interdisciplinary bridge between STEM (science, technology, engineering and medicine) and Arts disciplines. It has been well received and is now in use in other UK Geoscience departments, as well as at universities as far away as the USA and Guyana.
All the winners of the Times Higher Education Awards will be announced on Thursday 24 November.
---
CDT Poster Evening – 5th May 2016
Over 100 students, academic staff and industry partners attended the EPSRC Centres for Doctoral Training (CDTs) Poster Evening. Students from the following CDTs exhibited their MSc team project and PhD project posters:

Prizes were awarded to:
Further information:
Fluid Dynamics CDT student poster gallery.
---
INCOMPASS Project – Improving Weather and Climate Predictions of the Indian Monsoon
A team of scientists from the School of Earth and Environment are playing a leading role in a world-first field experiment in India, to improve weather and climate predictions of the monsoon. The group, led by Prof Doug Parker (CDT in Fluid Dynamics co-Director), forms part of the Anglo-Indian INCOMPASS project, which is making unprecedented observations of the land, ocean and atmospheric systems controlling the monsoon climate.
Research flights with the UK BAe146 research aircraft operated by the FAAM, have been conducted right across India, from the eastern and western reaches of the Indo-Gangetic plain in the north, to the Arabian Sea and Bay of Bengal, crossing the Deccan Plateau and Western Ghats in the south. A remarkable network of surface energy balance stations has also been established across the subcontinent, through partnership between the UK Centre for Ecology and Hydrology (CEH) and a number of Indian partners, including the Indian Institute of Science (IISc). An observational "supersite" has been set up at Kanpur in the north of India, including instruments installed by the NCAS Atmospheric Measurement Facility (AMF) at Leeds. INCOMPASS is jointly led by Andy Turner at the University of Reading and Prof GS Bhat at IISc.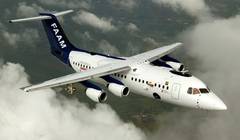 Image credit: http://www.FAAM.ac.uk. The UK Facility for Airborne Atmospheric Measurements (FAAM)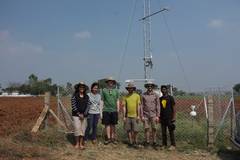 Image Credit: Oliver Halliday. Leeds PhD student Oliver Halliday (2nd from the right) spent 3 weeks earlier in the year assisting scientists from CEH Wallingford and the Indian Institute of Science, Bangalore, in the installation of observational stations in the south of India. The installation is now part of a network of stations which span the Indian peninsula and provide data for the ongoing INCOMPASS field campaign. A UK/Indian collaboration, INCOMPASS aims to better understand convection interactions with the onset and evolution of the Indian monsoon
---
Wind Farms' Climate Impact Recorded for First Time
CDT supervisor, Prof Stephen Mobbs, and his colleagues have been able to measure the climatic effect of a wind farm on the local environment for the first time. They focused on Black Law wind farm, Scotland, which has been operating since 2005. With 54 turbines and a generation capacity of 124 megawatts, it is one of the UK's largest arrays of onshore turbines.
For more information, please visit: http://www.bbc.co.uk/news/science-environment-36131442
To view their paper, please visit: http://iopscience.iop.org/article/10.1088/1748-9326/11/4/044024
---
Modelling the maths behind wave motion to aid sea rescues
A mathematical model developed at the University of Leeds could make it possible to design safer versions of the 'fast ships' used in many vital offshore operations.
Travelling at up to 30 knots, fast ships are used for search and rescue, anti-piracy and for transporting wind farm, oil and gas personnel. These ships are especially vulnerable to waves that amplify suddenly due to local weather and sea conditions – so-called 'rogue' or 'freak' waves – with about 100 ships lost or damaged each year worldwide, incurring around 2,500 casualties. For example, extreme funnelling effects may turn waves a few metres high into dangerous waves tens of metres tall that can destabilise ships, resulting in damage, causing injuries and threatening lives.
The new model produces unprecedentedly accurate animations and simulations that can show exactly how sea waves can affect fast ships. It highlights the importance of having accurate predictions of the pressure forces that these craft are subjected to, and could aid the design of fast ships better able to withstand the effects of rough seas.
Project lead Professor Onno Bokhove, from the University's School of Mathematics, said: "Describing mathematically the complex behaviour of waves and their interaction with fast ships and then incorporating all of this into a robust computer model has been very challenging. We're delighted to have provided further proof of how advanced mathematics can have real-world applications that help save money and safeguard lives."
Click here to read more.
---
Two students discuss a week in their lives as CDT researchers
First year student, Rory Hetherington, and second year student, Caitlin Chalk, share what a typical week as a CDT student is like. Find out more.
---
CDT Students organising 'Beautiful Minds' event as part of Pint of Science
Pint of Science is an non-profit organisation whose aim is to provide a platform for which the public can engage with researchers and hear about innovative science. Held during an annual international festival, talks and activities will deliver interesting, fun, relevant topics across a range of STEM subjects...all in the pub! This year will see the first time the festival is held in Leeds.
The Beautiful Mind event is being led by CDT student Hannah Kreczak, with the support of CDT students Georgina Williams, Jacob van Alwon and Inna Gorbatenko, and will host speakers discussing the wonder that is the human brain; from how it functions to why sometimes it goes wrong. Our aim is that a successful festival will lead to more outreach events hosted by a network of enthusiastic volunteers from the University of Leeds.
https://pintofscience.co.uk/team/
---
CDT Fluid Dynamics students given an insight into industry at the Materials Processing Institute
Students from the University of Leeds' EPSRC Centre for Doctoral Training (CDT) in Fluid Dynamics have spent three days at the Materials Processing Institute (MPI) in Teesside, with further visits planned between now and July as their project progresses.

Led by Professor Onno Bokhove, CDT students Paul Allen, Caroline Shields and Fryderyk Wilczynski spent time in the physical modelling laboratory to carry out work which ties in with their computational flow modelling tasks done on the University campus.

The idea behind the visit was the enable the students to have an opportunity to learn about modelling techniques while also finding out more about research and development and identifying industrial problems.
Events
University of Leeds EPSRC CDT Thesis Twitter Conference - 19 May 2017
09:00 - 17:00, @CDTFluidsLeeds https://twitter.com/CDTFluidsLeeds
Following the success of previous Thesis Twitter competitions held by the University of Canterbury, the University of Auckland and, the University of Leeds, the EPSRC CDT in Fluid Dynamics at Leeds will be hosting a Thesis Twitter Conference on the 19th of May 2017, 9am to 5pm. You can catch the action at https://twitter.com/CDTFluidsLeeds
The Thesis Twitter Conference provides a platform to engage an audience outside of your research field. It also allows you the opportunity to hone your skills in communicating your research concisely and clearly. Hopefully you will receive feedback and make new connections that you will maintain throughout your research career.

The Rules
You must be a University of Leeds EPSRC CDT Postgraduate Researcher in one of the following CDTs: Bioenergy, Complex Particulate Products and Processes, Fluid Dynamics, Tissue Engineering and Regenerative Medicine, Integrated Tribology, Soft Matter and Next Generation Nuclear
You must register for the event by 5pm on the 15th of May. Register at- https://leeds.onlinesurveys.ac.uk/university-of-leeds-cdt-thesis-twitter-conference-2017 
You are allowed a maximum of 6 tweets. Each tweet can be a maximum of 140 characters.
Number each of your tweets
End each tweet with #CDTTweCon
The first tweet should be the title of your thesis
The final tweet should sum up your work to date
You can tweet about a part of your research or your full project
Links to extra text explaining your research is not allowed
Links to videos, images and bibliographical information may be included
Postings will be stored and displayed online after the competition
The CDT in Fluid Dynamics at Leeds will be overseeing the event and retweeting entries as they come in
The Prize!
A prize will be awarded by a judging panel. A prize will also be awarded to the crowd favourite (Prizes TBC). Crowd favourite will be decided by a poll. This poll will be open after the conference ends at 5pm. Voting will remain open for 24 hours. When voting please select your three favourite Thesis Twitter papers. A link will be shared nearer the time to place your vote.

There are three criteria through which each thesis twitter paper will be judged:
1. Communication style: was the thesis topic and its significance communicated in language appropriate to a non-specialist audience?
2. Comprehension: did the thesis twitter paper help the audience understand the research?
3. Engagement: did the thesis twitter paper make the audience want to know more?
Winners will be announced at the CDT poster event on the 24th May: https://www.eventbrite.co.uk/e/centres-for-doctoral-training-poster-event-tickets-31754738277
#CDTTweCon Tips
You can tweet your thesis any time within the competition (9am-5pm).
It is helpful to give a tweet prior to your thesis tweet entry to announce it is beginning. This can also stop two papers being tweeted simultaneously.
To ensure your tweets are in the right order, draft them in advance in word and then copy and paste them into twitter.
Your tweets cannot be read if your account is private and your tweets protected.
Follow thesis tweets via the hashtag #CDTTweCon or follow @CDTFluidsLeeds
Discussion of papers is encouraged. Any questions should include the hashtag #CDTTweCon
An Example
This mock #CDTTweCon paper is an example from the University of Canterbury. The brevity removes the subtlety of the thesis (this is to be expected!), but it pretty much represents the gist of their case.
1. Running with the beat: The relationship between running pace and music tempo # CDTTweCon
2. Do people run faster when listening to faster (higher cadence) music? Do people match the rhythm of their feet to the rhythm of the music? #CDTTweCon
3. Recreational runners completed a fixed course while listening to music of their choice. Running speed and cadence and music tempo recorded. # CDTTweCon
4. Runners did match foot speed to music tempo – faster tempo, more foot strikes (more steps taken). But faster tempo was correlated with slower speed. # CDTTweCon
5. Listening to fast tempo music resulted in runners taking more footsteps but running more slowly overall. # CDTTweCon
6. If music is to benefit training, runners need to work on foot speed and long stride length when listening to fast tempo music. # CDTTweCon
For further examples see http://www.leeds.ac.uk/rtd/TweetyourThesisentries_2012v2.pdf

If you are unsure of how to use Twitter check out this useful video. If you have any queries please contact Claire Savy (c.savy@.leeds.ac.uk)

Whilst as a general rule, it is important to raise the profile of research through public dissemination, there can be situations where it may be inappropriate or even dangerous to publicise research. For instance, in some cases when working with vulnerable people the dangers of publication to the individuals or general group involved, might outweigh any benefits. In addition, the University is obliged to consider reputational risk and risk to students and researchers. It is also important not to disclose any information that is subject to a confidentiality agreement. Please consider carefully whether it is appropriate to tweet your research, and if uncertain please ask for further advice. We are grateful to the University of Canterbury for sharing their information.  The organisers reserve the right to cancel this competition or alter any of the rules at any stage, if deemed necessary in its opinion, and if circumstances arise outside of its control.
---
Centres for Doctoral Training Poster Event – 24 May 2017
13:30 – 16:30, Parkinson Court, Parkinson Building
This poster event will showcase students' posters and research from the following 5 EPSRC Centres for Doctoral Training at the University of Leeds:

Bioenergy
Complex Particulate Products and Processes
Fluid Dynamics
Integrated Tribology
Tissue Engineering and Regenerative Medicine – Innovation in Medical and Biological Engineering
13.30-16.10: Poster Presentations & Light Refreshments
16.10-16.30 - Poster Prizes
To register your attendance, please visit our Eventbrite page: https://www.eventbrite.co.uk/e/centres-for-doctoral-training-poster-event-tickets-31754738277
W: discover.leeds.ac.uk
---
Fluids Symposium: 'Fluid Dynamics Modelling for Real World Applications'
We are pleased to announce the upcoming Fluids Symposium: 'Fluid Dynamics Modelling for Real World Applications' on the 28th June 2017 (09.45-15.45).
Recent years have seen exciting advances in modelling techniques in diverse areas of Fluid Dynamics, with benefits to society including applications in industry, geosciences, hazard prediction and weather forecasting. Advances include theoretical and mathematical innovations, as well as the efficient exploitation of new computational resources such as massively-parallel machines.
This symposium brings together leading researchers in different fields within Fluid Dynamics, to share latest results and ideas related to the modelling of real-world phenomena. The event is open to the community of researchers in Fluid Dynamics at Leeds, and their industrial partners.
Over 100 academics at Leeds undertake research with a major Fluid Dynamics component. This includes both fundamental and applied Fluid Dynamics problems, such as geophysical flows, pathogen control, nuclear safety, heat transport, climate modelling and oceanography. Fluid Dynamics at Leeds has strong links to industry and early career researcher training (notably the EPSRC CDT in Fluid Dynamics at www.fluid-dynamics.leeds.ac.uk). Our goal is to promote and support fundamental and multidisciplinary research, and to encourage collaboration and innovation to tackle Fluid Dynamics problems.
Confirmed speakers:
Prof Pier Siebesma, TU Delft
Prof Hans Kuipers, TU Eindhoven
Prof Chantal Staquet, University of Grenoble
Prof Ulrich Ruede, University of Erlangen
Further details including talk titles to follow.
Please email c.savy@leeds.ac.uk to book your place to attend.
---
UK Fluids Conference 6-8 September 2017
The EPSRC Centres for Doctoral Training (CDT) in Fluid Dynamics at the University of Leeds and Imperial College London are organising the second annual UK Fluids Conference. Our primary intention is to encourage greater cohesion and interaction amongst the fluids communities in the UK and to be of benefit, in particular, to PhD students. The first annual UK Fluids Conference took place at Imperial College London on 7 – 9 September 2016.
For more information please see: http://www.fluid-dynamics.leeds.ac.uk/uk-fluids-conference/
---
Seminar: The dynamics of tropical cyclones
The first ICAS external seminar of the year is on Tuesday 11th October, 2-3pm in the SEE Level 8 seminar rooms.
The speaker is Roger K Smith, Ludwig-Maximilians University of Munich, Germany who is talking on "The dynamics of tropical cyclones".
A full abstract is available here.
---
Seminar: Hydrodynamic interactions and mass transfer in suspensions – a particle's perspective
We are pleased to announce that Prof Jos Derksen, a world-leading expert in modelling multi-phase flow is coming to give a Frontiers lecture in October (details below). If anyone is interested in meeting with Prof Derksen, please contact Prof Bayly direct.
Hydrodynamic interactions and mass transfer in suspensions – a particle's perspective
Prof. Jos Derksen
University of Aberdeen - School of Engineering
October 26th, 2016.
1 – 2 pm Lecture Theatre C (1.05) – Houldsworth Building, School of Chemical and Process Engineering
Abstract
Many chemical engineering processes rely on mass transfer between a solids phase and a liquid phase. Agitation and fluidization of dense solid-liquid suspensions are common ways of enhancing transfer rates. Slip velocities between the phases contribute to the transport of species towards and away from the solid-liquid interfaces. We present detailed simulations of flow dynamics and mass transfer in dense suspensions with explicit resolution of the solid-liquid interfaces. Challenges we face relate to the high Schmidt numbers usually associated with liquids which ask for dedicated numerical methods for sufficient resolution of the (fine) mass-transfer boundary layers, and to handling interactions between non-spherical particles in dense suspensions.
---
Fluids and MHD seminars 2015-16
Semester 1, 2016-2017
Thursdays at 4:00 p.m. in MALL 1 & 2, School of Mathematics
Campus map showing our location
Forthcoming seminars
Thu 29th September, 2016
4:00 PM
Helen Burgess (School of Mathematics and Statistics, University of St Andrews) 
Scaling theory for vortices in the two-dimensional inverse energy cascade
Thu 6th October, 2016
4:00 PM
Julian Mak (School of Mathematics, University of Edinburgh) 
A new gauge invariant method for diagnosing eddy diffusivities
Thu 20th October, 2016
4:00 PM
Ed Llewellin (Department of Earth Sciences, University of Durham) 
Slugs and plugs: multiphase magma flow in basaltic volcanic conduits
Thu 27th October, 2016
4:00 PM
Anne Juel (School of Physics & Astronomy, University of Manchester) 
Using inkjet printing to deposit lines of fluids
Thu 3rd November, 2016
4:00 PM
Nobumitsu Yokoi (Insitute of Industrial Science, University of Tokyo) 
Large-scale flow induction by inhomogeneous turbulent helicity
Thu 10th November, 2016
4:00 PM
Rob Lamb (JBA Trust) 
TBA
Thu 17th November, 2016
4:00 PM
Sylvain Laizet (Department of Aeronautics, Imperial College London) 
A 2D domain decomposition, a customized immersed boundary method and a zest of numerical dissipation: a successful cocktail to tackle turbulence on supercomputers
Thu 1st December, 2016
4:00 PM
Andrew Hillier (Department of Mathematics, University of Exeter) 
TBA
Thu 8th December, 2016
4:00 PM
Xiomara Marquez Artavia and Joshua Kirk (School of Mathematics, University of Leeds) 
TBA
Further information: http://www1.maths.leeds.ac.uk/events/seminars/fluids.html
Click here to view past seminars.
---
CDT Open Day – 9 November 2016
Whether you've already applied or plan to apply to one of the EPSRC Centres for Doctoral Training offered by the University of Leeds come along to our CDT Open Day. Meet the CDT directors and current students, learn more about the Centres for Doctoral Training programmes, and have the opportunity to get your questions answered.
The EPSRC Centres for Doctoral Training (CDT) bring together diverse areas of expertise in order to train researchers to address engineering and science related problems. They draw on world class and internationally recognised research from a range of disciplines and provide students with the knowledge and skills through which to address today's global issues and prepare them for future challenges.
The University of Leeds hosts the following integrated MSc/PhD programmes, each have up to 10 fully funded places available for September 2017 entry and will be in attendance at the Open Day:
Bioenergy

Complex Particulate Products & Processes

Fluid Dynamics

Integrated Tribology

Nuclear Fission – Next Generation Nuclear

Tissue Engineering & Regenerative Medicine – Innovation in Medical & Biological Engineering
---
The Pint of Science 23-25 May 2016
The Pint of Science international festival is coming to Leeds for the first time! We'll be in three Leeds pubs on 23-25 May to bring you talks from University of Leeds scientists as well as demos, quizzes and prizes. Come along for a couple of drinks and learn about some of the world class research that goes on here in Leeds.
Tickets are just £4 each and can be purchased from https://pintofscience.co.uk/events/leeds.